How does Rayz Lighting Help Jersey Chemicals Reduce 75% Energy With The Right Kind LED Lights Installation?
RECENT POSTS
Fri, Mar 17, 23

Fri, Feb 24, 23

Thu, Feb 09, 23

Mon, Jan 30, 23
Categories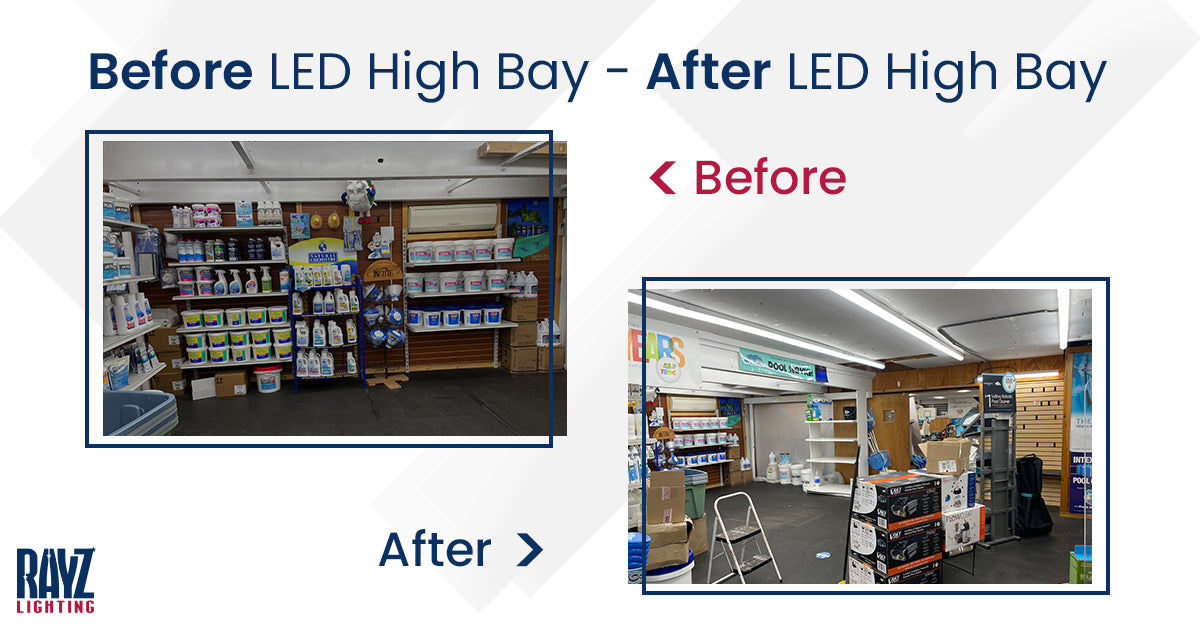 Being recognized as one of Bridgeport's leading LED lighting solution providers, it's always a joyous moment seeing your product and service benefit your clients way beyond their imagination. Out of many, one such instance where Jersey Chemicals approached us for a comprehensive lighting solution for their entire operation area, we obliged in the most precise manner.
Previously, Jersey Chemicals installed several watts of metal halide high-bay lamps in their 100000 sq ft operational area, causing high voltage consumption and heavy electricity bills. They were having trouble with the electricity usage and cost, which led them to Rayz Lighting for a result-driven solution.
This project's primary goal is to show them the benefits of LED lights while maintaining the highest-quality service. How efficiently can they leverage the advanced features of LED high bay lights in their establishments? The number of safety measures they could create for their workers, low-cost maintenance, energy efficiency, etc.
As a first step, our lighting experts team walked through Jersey Chemicals' entire facility, from inventory to basement to store rooms to the parking lot, for complete inspections. Later, they enquired about the details from the operational manager, such as the lights' operating hours, voltage usage, loads, and monthly/annual electricity bills, for a complete understanding of the requirements. After storing all the data on the Ipad, our experts ran an analysis assuring a full-fledged solution for Jersey Chemicals.
As relevant as possible, we recommended various wattages of High Bay LED fixtures as a standard replacement for their existing Halide High bay lamps. A detailed annual report was forwarded to the Jersey Chemical operational management, which outlined the total installation budget, yearly electricity cost, maintenance and ROI time frame. After receiving the final nudging from the manager, we started our installation process and finished the work in due time.
Final Light Quantity stands at 
Below listed the before and after stats of the Jersey chemicals lighting usage and cost!
The Facts 
Jersey Chemicals Total Area - 100000 Sq. Ft.
Before Rayz Lighting:
Lighting Fixture - 120W, 150W, 220W and 400W Metal Halide Highbay Lamps
Annual Energy Usage -
Annual Energy Cost -
After Rayz Lighting:
Lighting Fixture - 120W, 150W, 200W, 300W Highbay Lights
Annual Energy Usage -
Annual energy Cost -
Energy Reduction - 75%
Return on Investment (ROI) -
Total Annual Operational Saving –
What makes them believe in Rayz Lightings LED Highbay Lights Fixtures? 
When Jersey Chemicals approached Rayz Lighting for their entire establishment's lighting rejuvenation, they knew, and we told them that they are not just switching from traditional metal halide to modular high bay lights! They are only investing in smart lighting fixtures, which will enhance their overall productivity to the highest level while assuring quality save in the lighting budget.
Along with a modular look and advanced features, our high bay led lights will ensure:
Longevity -  Compared to a traditional 400w halide high bay (10-15000hours), a 240w LED high bay comes with a 60000hours lifespan, automatically making it a reliable choice.
IP65 Protection -  The IP stands as Ingress Protection in high bay lights where the number 6 reflects the protection level of dust and 5 reflects the protection level of water and moisture.
Advanced CRI - The improved Color Render Index (CRI) enhances the viewer's eyesight by allowing them to see the object correctly, even from a sheer distance. Workers working on the shelves, godowns and aisle sides get the most out of this feature.
UV Emission - Our high bay lights emit UV (Ultraviolet), allowing you to place them in sensitive areas without worrying about any product damage.
Energy-Efficient - We have installed a 50W LED wall pack in the Jersey Chemical basement, replacing a 250 W metal halide wall pack, saving up to 80% energy as per our previous calculation and experiment.
Final Output 
We are thrilled to introduce people to the benefits of LED high bay lights, and ensuring safe and secure installation is what we are passionate about. We have the most versatile and experienced team of lighting experts who can help you discover more about our lighting features while assuring you a quick switch to the LED method.
We at Rayz Lighting offer complete inspections for all the industrial and warehouse areas, accountable for perfect LED lighting solutions at your convenience.