LED Street Lights Vs. LED Parking Lot Lights - Definitive Comparison!
RECENT POSTS
Fri, Mar 17, 23

Fri, Feb 24, 23

Thu, Feb 09, 23

Mon, Jan 30, 23
Categories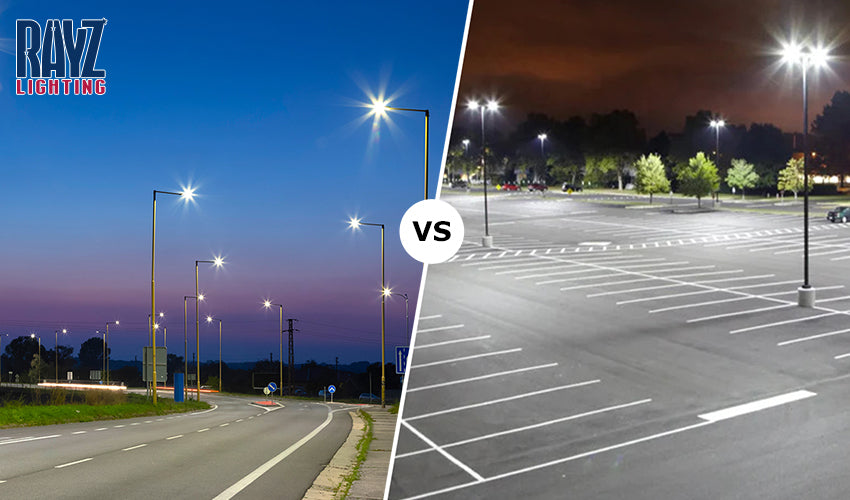 LEDs are rapidly gaining popularity as an effective and energy-efficient alternative to traditional lights for all types of lighting over the years.
In contrast to the street and parking lot lights, many unified LED lighting fixtures have made their mark in this segment due to their intuitive offerings.
You will find many LED options in both segments regarding size, specifications, and price.
However, buyers often need clarification in buying these two lighting fixtures as they possess many similarities yet differ in use.
Let's go into detail about similarities and differences to help those buyers get better clarification.
LED Street Light - Overview!
A LED Street Light is one lighting fixture mounted on a round or square pole on the roadside.
It is specifically designed for outdoor spaces, ensuring better and brighter illumination t large spaces.
An LED street light is an advanced outdoor lighting fixture integrated with Light Emitting Diodes (LED) as a primary lighting source.
Compared to traditional street lights, LED Street lights are energy-efficient, ensure longevity, are built with high-quality materials that save them from dust and moisture, and have high-end safety assurance.
LED Parking Lot Light - Overview!
As the name suggests, LED Parking Lot Lights are usually located on parking lots and other outdoor spaces like Pathways and Driveways on round and square poles.
Like the street light, parking lot lights are also integrated with Light Emitting Diodes (LED) as a primary lighting source.
Compared to the previous version of traditional parking lot lights, now you will find varieties of parking lot lights in different shapes and sizes, offering brighter illumination to vast spaces.
Differences between LED Street Lights Vs. LED Parking Lot Lights:
Although many differences are there between LED Street and Parking Lot lights, here we have enlisted some highlighted and most discussed ones:
Beam Angle
The beam angle determines the light emitted distribution measurement by a light source.
The beam spread angle has three broad categories - narrow (0-20 degrees), medium (20-40 degrees), and wide beam (above 40 degrees).
Unlike street lighting, parking lot lights utilize wide beam angles in all directions.
It's because parking lot lights cover a more wide area and in all angel than street lights which only focus on one section of the road.
Light Color
Light color or kelvin, often ranging from excellent to warm, defines the color of light. In comparison, government officials pick the street lights and emit slightly yellowish or less white to cut down the direct reflection.
Parking lot lights are picked by individuals and owners who usually pick the ones with brighter illumination, ensuring better visibility and safety for the property.
Similarities between LED Street Light Vs. LED Parking Lot Lights:
Despite many differences, these two lighting fixtures comprise many common similarities, such as:
LED types and drivers they use (Usually 3030 high output size)
Their output voltage (48-56dc)
Built quality and body construction (aluminum for heat sink and corrosion)
Lens material, Accessories, and Features
Photocells (Different PINs)
Installation Types
LED Street Lights
Slip fit is the premium installation type for LED Street Lights that goes well with both round and square poles with round arms.
Moreover, the slip fit ensures quick installation, making it easy to adjust the light fixture in all directions.
However, it is vital to determine the pole's diameter before going with the slip-fit mount for high-end compatibility.
LED Parking Lot Lights
Slip fit is the most-preferred installation type for LED Parking Lot lights, as it ensures a solid grip on both round and square poles and the walls.
By combining them with wall brackets, you can ask the installer to use slip fits on square poles.
It's a simple and proven way of installation type that improves light efficacy to an extensive level.
If it's a commercial building or warehouse where parking areas are under the buildings, then hook mount on ceilings and walls is the best installation option.
Application Areas of LED Street Lights and LED Parking Lot Lights:
LED Street Lights
LED Street Lights come in many shapes, designs, and luminaries and are used in multiple applications.
Gradually, these lights are applied based on their beam angles, appearance, and mounting methods. Some of the examples are:
Street Lighting - You will see LEDs of street lights of different sizes, shapes, and wattages installed on poles in both urban and rural streets, ensuring enough lighting during the night.
Ring Expressway Lighting - Usually, these categories of light are big wattage lights that illuminate vital space to assist riders driving safely during night time.
Logistic and warehouse outdoor spaces - Most shipyards, logistic areas, and outdoor warehouse spaces are equipped with street lights for brighter illumination in large areas.
LED Parking Lot Lights
Parking Lot lights are the most reliable lighting options for many spaces, including parking areas. Some of the classic examples are:
Pathways - LED parking lights are excellent lighting options for residential and commercial areas pathways for better and brighter illumination.
Driveways - even on the driveways, LED parking lot lights have turned out to be the best and most convenient lighting solutions.
Garage Parking Lots - Including Pathways and Driveways, you will find LED Parking Lot lights installed in many indoor garage lights.
As per the owners, these lighting fixtures have all those specifications that have helped them get better illumination and enhance their property security.
Bottom Line
It's a wrap-up here. We have covered all essential prospects of LED Street Lights Vs. LED Parking Lot Lights, from overview to similarities, differences, and application areas.
Both these lighting fixtures are excellent sources of brighter lighting which have completely transformed the structure of outdoor lighting scenarios.
In contrast, many LED lighting service providers have come forward with the best outdoor LED lighting solutions in various categories.
But, out of all, Rayz Lighting has the most elite and cost-effective LED Street light and LED Parking lot light options. So you better hurry and purchase the best LEDs now!