Switch to LED Outdoor Lighting to Increase Business Visibility!
RECENT POSTS
Fri, Mar 17, 23

Fri, Feb 24, 23

Thu, Feb 09, 23

Mon, Jan 30, 23
Categories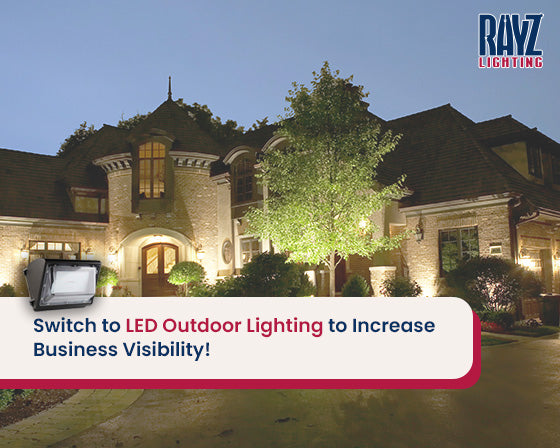 Similar to indoor, outdoor light also plays a significant role in enhancing business visibility. Wait? Like, outdoor lights are those installed outside of the premises, right? Then how come it increases business visibility? This genuine question will automatically come into every user/business owner's mind.
Since LEDs have started dominating the lighting industry, users' perspectives about lighting fixtures have changed significantly.

Before buying any light, they go through all specifications, drawbacks, and benefits. Be it Indoor or Outdoor, Home or Industrial spaces.

The priority now remains the same regarding lighting.

In this blog, we are unveiling some of the least discussed benefits of Outdoor Commercial lights.

Also, the best available outdoor lighting solutions for their business outside the arena are available.
Benefits of Outdoor Commercial Lightings
Below enlisted some of the crucial benefits of outdoor commercial lighting for you to understand before concluding any opinion.
Being an industrialist, you always show concern about your outer space. It is inevitable as many unwanted objects often target such areas for wrongdoings.
It includes animals too. However, installing high-voltage LED commercial lighting will remove all your concerns.
Primarily, it will boost the illumination and cover extended areas compared to traditional lights. As a result, your workers and other individuals will get a clearer view.
Who doesn't want to get notified with an awe-spring expression? A LED wall-pack light in your entrance gate, logo frame, and outside wall, and some modern outdoor lighting fixture is all you need to get noticed from a sheer distance.
Mainly, it will enhance your commercial property's exterior beauty. Your visitors, especially foreign delegates, will get a clear view of your establishment from a decent distance.
Boost Garden & Parking Area Security
Inside a commercial property, irrespective of the size, the garden and parking area are the two sensitive and most used areas.
Installing advanced LED outdoor commercial lighting not only improved its usability.
Also, give workers high-end reliability of their safety in the garden area and the safety of their vehicles in the parking area.
LEDs are known for their longevity and energy efficiency. LED outdoor light saves up to 75-80% of energy compared to any fluorescent outdoor light.
It provides far better illumination while consuming minimal power in the process. As a result, users will get low electricity bills while enjoying brighter and longer illumination.
Outdoor Commercial Lighting Ideas
If you go through any offline LED store or search the internet, you will find many Outdoor commercial lighting ideas for your establishments.
However, not every fixture is designed to serve the same purpose of your will.
Here we enlist some of the most-preferred Outdoor LED Lighting Solutions:
As the name suggests, LED Wall Packs are the most unified outdoor lighting fixtures. You can install Wall Packs in your:
Front gate
Outer sidewall beside your company's logo
Backyards
Basement wall
Garden wall
These lighting fixtures are weather-efficient and robust enough to survive any hazardous condition without lacking performance. You can choose from various designs and watts as per your preference.
The Shoebox lights are the most convenient outdoor commercial lighting option for parking lot and pathways. The feature included in this lighting fixture is IP65.
It boosts its weather efficiency capabilities and helps withstand bold hazardous conditions.
Moreover, it also has a multifunctional sensor option, allowing users to control its operation remotely.
The LED Flood Light could be your go-to outdoor lighting option for your backyard and garden.
It has weather-efficiency capabilities and robust modern features, making it the most reliable option.
Easy to install, LED Flood Light has been the go-to lighting option for many industry owners lately.
Final Thought
LEDs are a revolution. It has changed the lighting industry from heavy and high-cost lighting solutions to easy and low-cost mounting.
Being a leading LED service provider, you can visit rayz lighting inventory to pick the above outdoor commercial lighting fixtures as per your need.
Our officials will guide you throughout the buying and installing procedure. Contact us now to explore intuitive Outdoor Commercial Lighting ideas and solutions.