LED High Bay Lights With Multifunction Motion Sensor - What Is It, And What Are The Key Benefits?
RECENT POSTS
Fri, Mar 17, 23

Fri, Feb 24, 23

Thu, Feb 09, 23

Mon, Jan 30, 23
Categories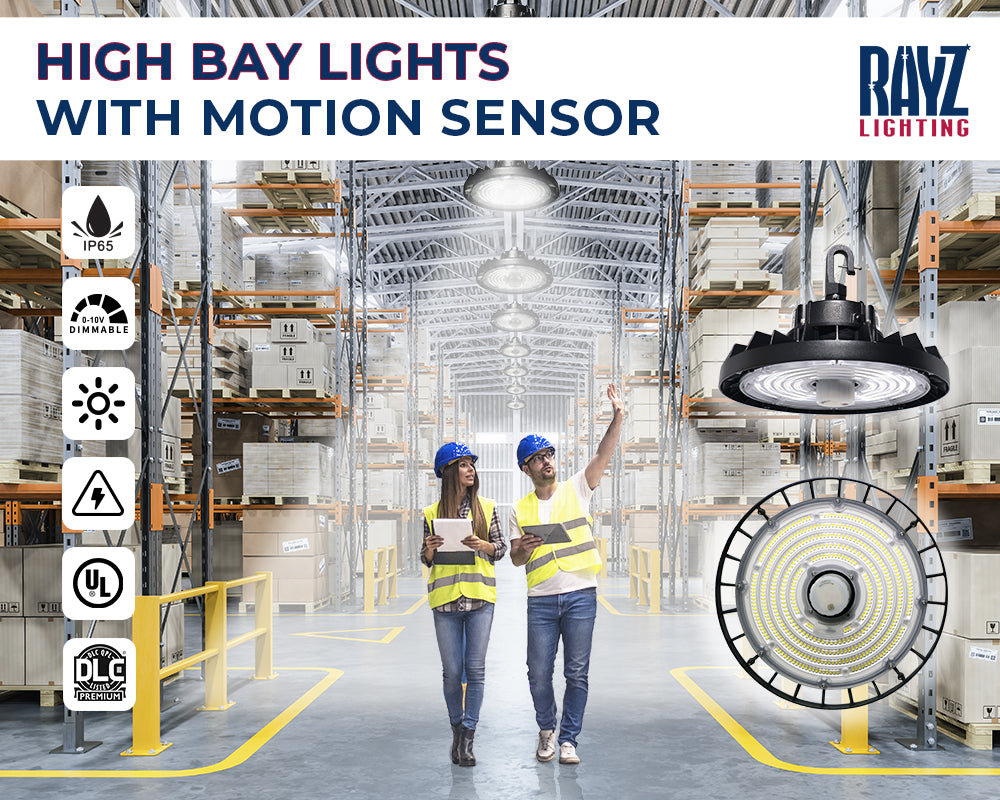 High bay lights turned out to be the best inventions of the lighting industry out of many in the past couple of years. The LED high bay lights have changed the vast areas of indoor lighting structure in the most advanced manner. High bay lights are designed to exude natural light that spreads over a more extended and broader distance without hassle.
As the name suggests, the high bay lights are generally installed on high ceilings (14ft and above), ideal for large areas such as warehouses, municipal facilities, community centers, department stores, gymnasiums, manufacturing areas, and store halls.
But, the latest inclusion of multifunction motion sensors on these high bay lights has created more hype in recent times.
However, many of you must have had a glimpse of multifunction motion sensor functionalities in some areas' lightings. But still, there are many insights left that we are revealing in this blog for your consideration.
So, let's dive deep into the LED high bay lights with multifunction motion sensor saga with the following contents:
What is a Multifunction Motion Sensor?
The multifunction motion sensor in a high bay light refers to the latest configuration that reacts to the surrounding movements. You can control it with a remote from a sheer distance.
In general, it operates automatically while someone or something passes below the lighting area movement and stays turned off the rest of the time.
Meanwhile, the LED High Bay Lights With multifunction Motion Sensor helps in conserving energy up to 35% compared to traditional lights.
With each advancement in industrialization, many lightings fixtures, including LED high bay lights, have been incorporated with multifunction motion sensors making it the most popular LED light amongst many.
It can be controlled automatically and requires no human activities involved in the first place.
What is a Multifunction Motion Sensor High Bay Light?
The multifunction motion sensor high bay lights are wall-mounted lighting fixtures attached to 14ft above industrial and commercial building walls.
The multifunction motion sensor high bay lights apply to an increased range of lighting fixtures with its two-headed motion sensor fixture.
The multifunction motion sensor high lights have witnessed a significant rise in sales in the past couple of years due to its advanced features and motion detection capabilities.
Now, you can reduce your electricity bill proactively as this multifunction motion sensor automates your high bay lights functionalities.
How does the Multifunction Motion Sensor Work?
Gradually, the multifunction motion sensor-equipped in the LED high bay lights is a passive motion sensor with infrared detectors.
The infrared detector works upon sensing the light or temperature of the body (human or animal). Once a living thing goes under the lights, it quickly activates by sensing its body temperature.
Here is a brief explanation of the Motion Sensors work functionalities:
During the night time, when a living thing passes through the detection area of the multifunction motion sensor LED lights, it will automatically turn on, adapting its body temperature.
The lights will keep on illuminating its brighter light until the living thing (Human or Animal) surpasses the motion sensor detection range.
The multifunction motion sensor is so advanced that it comes with an in-built timer that lasts 30-45 seconds. After the living thing surpasses the sensor detection range, it automatically turns off with the set time.
Note - These lights do not turn on upon sunlight. The in-built mechanism is advanced enough to classify body temperature and natural heat living things.
Benefits of Multifunction Motion Sensor Lights
Below enlisted some excellent benefits of multifunction motion sensor lights which have made it the number choice for vast area lighting fixtures:
When you decide to install multifunction motion sensor high bay lights into your establishments, you simultaneously sign up for energy and cost-efficiency.
That's because the LED features consume less energy compared to traditional lights, and the motion sensor detection doesn't allow the high bay lights to stay turned on during no working hours.
Another key benefit is its longer lifespan (50 000hrs) and weather-friendly structure. Technology has driven to a higher level, taking the lighting design and development segments to the next level.
Now lights, especially multifunction motion sensor high bay lights, are coming with ten times longer lifespan than traditional lights.
The aluminum and solid fiber components have made it weather-friendly and perform well in hazardous locations without hassle.
Application Areas 
Lighting does play a vital role in creating a safe and secure environment. Also, brighter illumination brings the best working form of professionals where they can be more productive throughout the working hours. In contrast, multifunction motion sensor high bay lights are a significant choice for the below areas:
Warehouse
Industrial
Food factories
Showrooms
Departmental stores
Parking areas
Commercial stores
Metros
Garage Areas
Gymnasiums
Conference Halls or Community Centers
The Bottom Line 
Multifunction Motion sensor high bay lights have changed the usual way of lighting functionalities. Earlier, it was a hassle and time-consuming process that included installing and setting up different switches for different lights.
But now, you only need to pick the best multifunction motion sensor high bay lights ideal for your establishments from a renowned store such as Rayz Lighting and leave it up to them for a complete set-up.
You can monitor their installation process, which is a matter of a few minutes. Once they hook-mounted the motion sensor high bay lights inside your establishments, you will need to check the proper functionalities with remote control from a sheer distance.
No lengthy installation process, no physical movement or switches involved. Enjoy a seamless and hassle-free lighting experience by installing multifunction motion sensor high bay lights now!