How to Choose the Right LED Flood Lights?
RECENT POSTS
Fri, Mar 17, 23

Fri, Feb 24, 23

Thu, Feb 09, 23

Mon, Jan 30, 23
Categories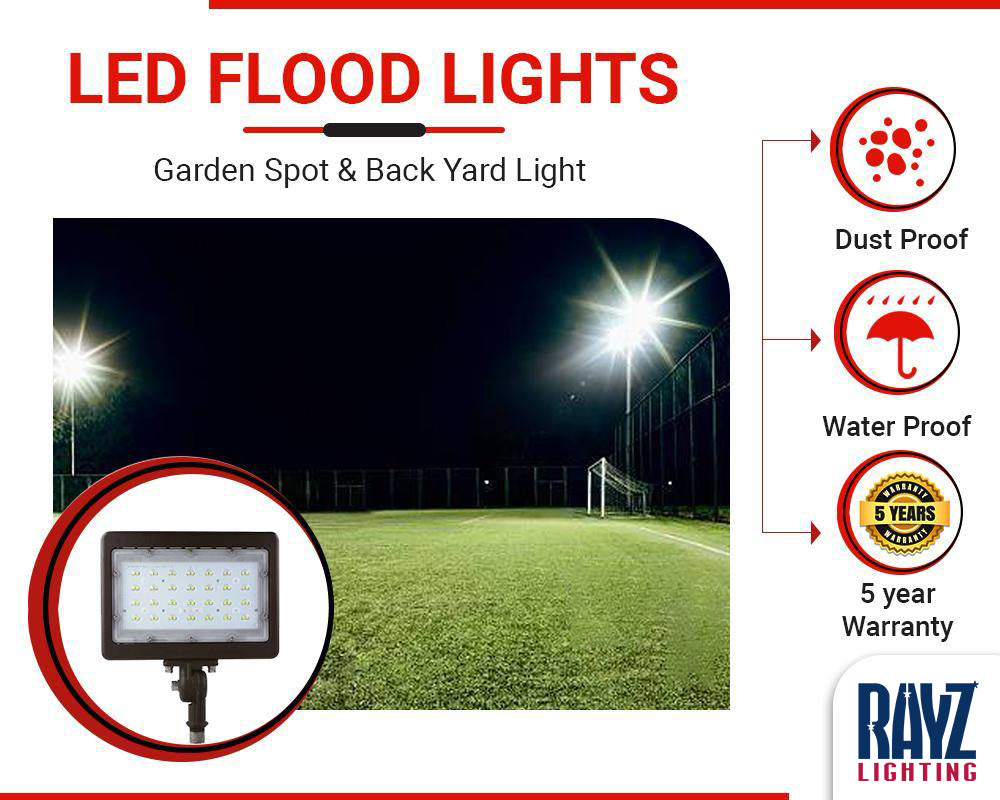 LED lights have dominated the market these days and have become quite popular to lighten up the large spaces. LED lighting solutions are used at various places such as parking lots, indoor lighting, shopping malls, outdoor lighting, etc. These LED lights are used widely because of their benefits and several features.
LED flood lights are a modern, cost-effective lighting solution as compared to traditional lighting. Flood lights are also referred to as security lights that provide the best quality illumination and brighten up the places.
These LED lighting solutions are ideal for building facades, billboard lighting, and highway sign lighting and similar applications. There are many benefits of an LED flood light, and the most important one of them is that these LED lights make your outdoor area brighter with a high-intensity light. With these flood lights, your outdoor area will brighten up, and you will have a safe space.
Here are the advantages of LED flood lights
Flood lights have a long lifespan:- Maximum LED lights to have 50,000 hours of uninterrupted life span, which means there is no need to change the lights often.
LED lighting Solutions produce less heat:- These LED lights have a low operating temperature, and therefore, these lights don't produce a lot of heat like other traditional lights.

LED lights save more energy:- This can be seen as an essential advantage of LED lights over other traditional lighting solutions. These lights are 90% more energy efficient than a halogen equivalent.

Flood lights have better CRI:- The flood lights comes with a CRI of 80 enabling the objects and surfaces to look realistic and artificial up to the extent of 80% in comparison to other traditional lighting solutions.
Led lights are more eco friendly:– These LED lights don't contain any toxic components or waste products, and therefore, these lights don't leave any carbon footprint and are more eco friendly.
These lights are low maintenance:- Investing in 50w LED flood light is a one-time investment as LED lights require low maintenance because of their long lifespan. The low maintenance of these lights also makes them the right choice for difficult-to-reach areas.
These were some of the top benefits of choosing LED flood lighting solutions to brighten up your spaces. While selecting the right flood light, there are a few deciding factors that you need to keep in mind.
Here are a few things to focus on while choosing the right LED lights
Lumens
Shopping the LED lights by lumens is more important than shopping by watts while choosing the right LED lights for your spaces. Lumens measure the amount of light produced, which means the more lumens the light produces, the bright light will be. Customers should also have a look at the lumens of the LED bulbs while choosing them.
Wattage
The LED lighting solutions should be chosen by their wattage. Wattage measures the bulb's energy consumption, and it is an essential factor to look at. Energy-efficient bulbs use fewer watts and produce the same amount of bright light. Thus, 30w LED lights, and 50w LED lights are both the variants of LED lights. The lower the watts, the lesser will be the energy consumption and lower electric bills.
Detention Angle
If you want to use motion detected LED lights, this is an essential factor. Standard LED lights are sensor-based that work only when a person or animal is in front of the light. If you are looking for such a LED lighting solution, then one must consider the detention angle.
Colour Temperature
Colour temperature also plays an essential role in selecting the right lighting solution. The colour temperature creates the mood of the space you are lighting and, therefore, works positively to improve the behaviour of shoppers and workers. The light's temperature is measured in Kelvin, and the higher the Kelvin, the whiter will be the light. Thus, it's essential to choose the lights with the right colour temperature for clear white light.
These were some of the important factors that you must keep in mind. For the best lighting solution, don't forget to look for these factors in the LED flood lights before choosing them for your spaces.
Conclusion
If you want LED garden yard flood light for your outdoor space and are looking for the right lighting solution, our lighting solutions can benefit you. We offer best-LED lights and services.
Rayz Lighting INC has been providing the best-LED bulbs for lighting up your spaces. Whatever your requirement is, you can talk to us. We guarantee you the best quality and safe installation of LED lights.