Five Ways LED Lighting Can Improve Industrial Area Safety!
RECENT POSTS
Fri, Mar 17, 23

Fri, Feb 24, 23

Thu, Feb 09, 23

Mon, Jan 30, 23
Categories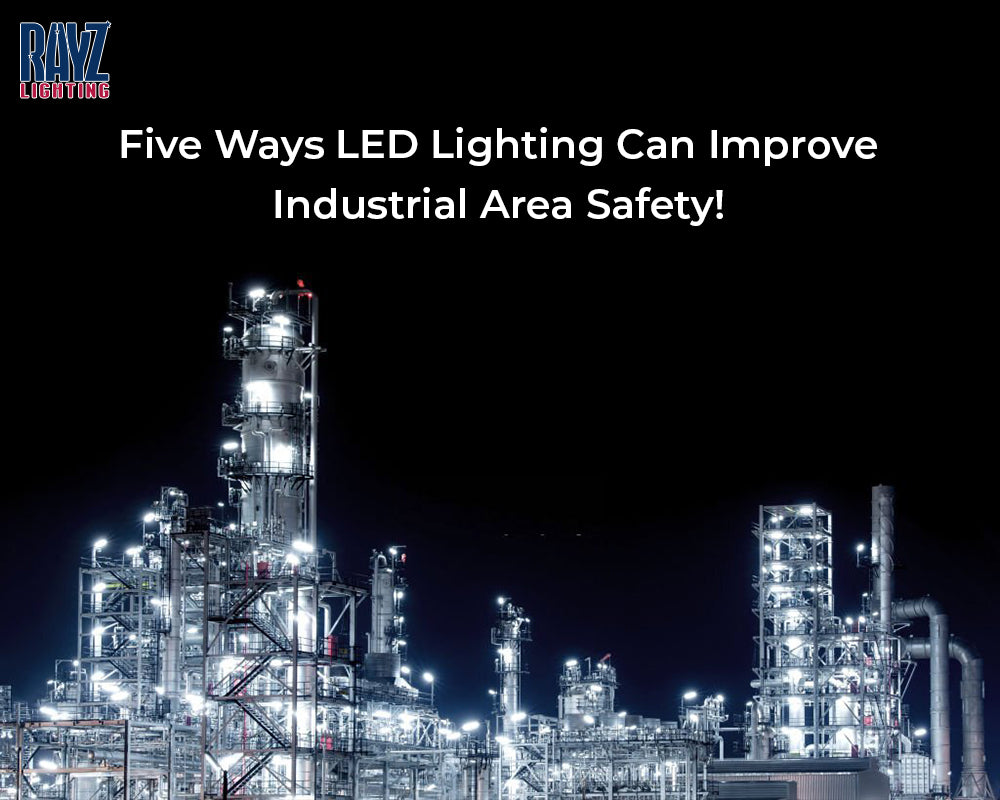 Safety, by all means, irrespective of the location and workstation, should remain a top priority for all. And if you're the owner of any manufacturing facilities, you must pay close attention to your workers' safety from every aspect and corner, especially in the lighting segments.
However, despite several safety measures, lighting-related accidents and risks still occur. Meanwhile, even after vast structural, mechanical and equipment improvements, it remains an inherently dangerous facility with heavy equipment in operation, material handling, excessive noise, and risks around every corner.
In addition, transforming from standard lights to Industrial LED lighting sounds like a better and more reliable option to reduce the risk factor and accidents.
Along with eliminating accidental risk factors, LED fixtures can significantly improve your working area lighting efficiency, improve worker visibility, reduce electricity cost and boost overall productivity in the most advanced manner.
Also, it could enhance your production while ensuring complete protection throughout the day.
In the meantime, here are five imperative ways LED lighting improves industrial area safety:
Reducing Installation Risk
Let's not be biased here! Different periods have different options and infrastructure, making things sometimes tricky and risky and at times super easy.
Earlier, industrial lighting installation seems to be a high-risk task with fewer accessories and lighting equipment for optimal installation support.
However, the modern industrial LED lighting fixture has advanced accessories and a user manual and guide, making it a quick and risk-free installation process.
For example, the UFO high bay light is a must-have industrial LED fixture used in many large and small industrial establishments and is the easiest installation method.
You only need to mount the 6ft safety harness cable with the J mount and hang it from the ceiling above 15 ft to 45 ft.
Optimal Quality Color (Improved CRI - Colour Render Index)
The inability to differentiate colours can lead to huge risks, especially in industrial manufacturing. Earlier, standard fluorescent lights lacked this feature and used to spread only extra contrast white or slightly yellowish lights across the working place.
As a result, it used to be difficult for workers to identify the object's actual colour, which caused unexpected mishaps.
Meanwhile, the latest LED lighting fixtures consist of CRI (Colour Render Index), which reveals the actual colour of the objects and eliminates the confusion factor of exchanging or mishaps of products.
It produces a bright white light that reflects natural-looking daylight and helps quickly identify products within a distance.
Minimal Mercury Exposure
We all know how hazardous mercury can be to us. Despite knowing the risk factor of mercury, earlier industry owners never hesitated to imply HPS and fluorescent lights in their industrial space, which contained the highest mercury level at that time.
Guess they didn't have many options back then either! Well, now, with the ever-evolving and growing era of technology, LED fixtures have become mercury-less, assuring complete safety of people and establishments with minimal or almost zero exposure to mercury.
Reduce Tripping Hazard Accidents
Not all accidents happen in industrial facilities due to machine and product manufacturing processes; some are directly related to poor industrial lighting. If we go through history, in 2015, 2.9 million injuries in 4,836 workplace fatalities happened in the US only.
Poor illumination is causing slip, trip and fall hazards and contact with moving objects, leading to life risks at some industrial establishments.
However, using UL, cUL, and DLC Premium certified industrial LED lighting has tended to reduce the accidental ratio with better illumination, increasing workers' visibility and helping them avoid potential risks during nighttime.
Smart Multifunctional Operation
Including the latest features and configurations, such as a Multifunctional motion sensor, has made industrial LED lighting much more reliable than standard lights.
For example, the newest model Linear High Bays, UFO High Bays and many other LED lighting fixtures are now equipped with ZH18MF001 (MULTIFUNCTIONAL SENSOR), which allows users to control the light processing within a sheer distance using a remote.
The sensor comes with a pre-built timer that lasts 30-45 sec that activated only when a living thing passes underneath.
Rest, it stays lowkey, significantly reducing the lighting bill and unnecessary electric consumption of the establishments.
Bottom Line!
So, here we have summed up five key points concerning how LED lighting fixtures can improve industrial safety.
These were proven measures which we believe could create the maximum impact and help you create a better and safer working environment for your workers.
In contrast, if you are looking for the best and most cost-effective industrial LED lighting solution with quality and safety assurance for your facility, then Rayz Lighting can be your one-stop destination.
You will find a plethora of high-quality, advanced LED lighting in different wattages and categories to fulfil your industrial lighting requirements.