LED Shoebox Light - Key Benefits, Application Area & Importance Explained!
RECENT POSTS
Fri, Mar 17, 23

Fri, Feb 24, 23

Thu, Feb 09, 23

Mon, Jan 30, 23
Categories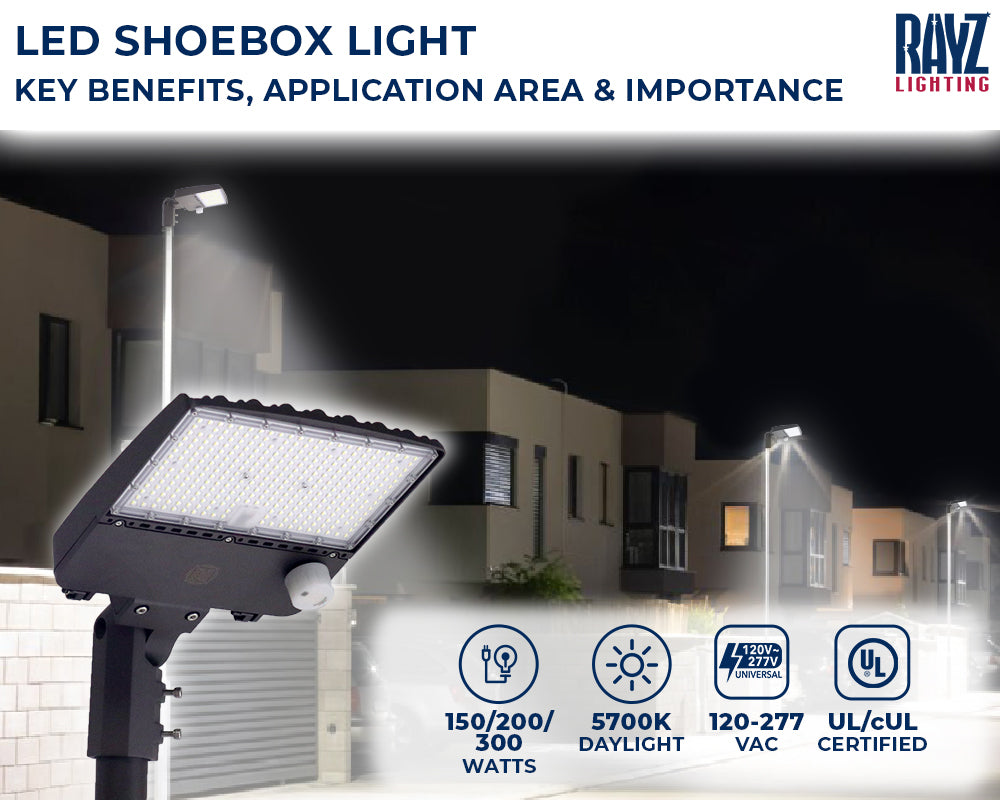 Outdoor Lighting is as essential as indoor Lighting at any given time on any day, especially in large outdoor spaces where Lighting plays a vital role in providing viewers a clear vision of objects.
So, in order to install proper lighting solutions in vast areas, LED Shoebox Parking Lot Lights seem to be the most proliferating solution among all other lights. And why not?
The LED Shoebox Lights have received a fair bit of appreciation from users and experts across the globe since their appearance. Whether it is parking lots, street lighting, stadiums, air terminals, train station, or metro terminals, LED Shoebox Lights have gained immense popularity by providing brighter light and more extended life capabilities.
In this blog, we will share some of the major benefits of LED Shoebox Lights, their application area, and their significant importance in the lighting segments.
What Are The Prime Benefits Of Using LED ShoeBox Lights? 
In the past couple of years, there has been a significant increase in the sales of LED Shoebox Lighting. Well, it's not a matter of surprise. Still, a moment of appreciation to those who have invented such modulus outdoor lighting solution which has all the modern capabilities such as more extended life efficiency, providing brighter illumination than the traditional lights, eye-catching and robust design, weather efficient and cost-effective, period.
Some notable benefits of LED Shoebox Lights 
Future-Rich Features  
Nowadays, most LED Shoebox Lights are built with advanced features and dynamic modular structures. Especially if you purchase LED Shoebox Light from Rayz Lighting, you will see those lights equipped with a longer lifespan (50000 - 100000 hours).
They are energy-efficient functionalities that save up to 80% energy compared to traditional lights, stylish design patterns, and resilient weather.
Brighter Light to Large Areas  
It is a well-known fact that the LED Shoebox Lights are specially designed to illuminate large spaces.
In the street, park, walkways, metros, air terminal, and train stations, these light gives people the ultimate vision to see things clearly and feel safer around those crowdy places.
Prevents Accidents 
The most significant advantage of installing LED Shoebox Lights in the parking, street light, walkways, narrow roads, and park areas is that it helps prevent accidents.
The brighter illumination allows the driver or walker to see things and roadways clearly, and they do not follow the wrong path.
Lower Crime Rate  
The brighter the roadways, parking lot, and outdoor spaces, the lesser the crime rate will take place. Lower gives thieves and snatchers the chance to activate their stealing node.
But brighter illumination puts fear in their mind, and they hesitate to get started to do something unusual.
LED Shoebox Light Application Area 
The LED Shoebox Light application areas include large public, street, and parking areas. Actually, you all have indeed surpassed it at any given time or day but just couldn't have noticed.
Even if you have paid attention, you didn't know that those were the modern LED Shoebox lights. So for your knowledge, here is a brief of the LED Shoebox Lights application areas:
Large Public Space Areas 
Here, we can quickly mention large public gatherings areas such as metro stations, shopping malls, public parks, air terminals, train stations, and many more.
Installing LED Shoebox lights in place of traditional fluorescent lights will bring the desired illumination and help officials provide the public with a clear and safe vision.
Also, these are some of the sensitive areas as well. So with LED Shoebox lights, things would have much safer and prevent any accidents, pocket snatching.
Large Stadiums 
We know how important a role light does play in the sports court/stadiums, especially in a night game. Thousands and millions at times gather in the sports arena to cheer their favorite team and player.
So it is essential to provide them with a transparent and fair lighting game to promote the safe conduct of the sports event.
LED Shoebox Light is one such lighting option in recent times that has all the qualities to be that perfect stadium light that can help conduct safe and enjoyable games for all.
Streets & Parking Areas 
The one thing common between streets and parking areas are vehicles. These two places need special LED Shoebox light installation to prevent accidents.
Brighter lights will give the driver a better view, and they could get more control over the objectives and roads. Also, it prevents the stealing of vehicles from the parking area.
Key Importance of LED Shoebox Lights 
Every LED light possesses unique features and functionalities. Likewise, LED Shoebox Light does bring some essential benefits to the table, which has made it the leading outdoor LED Shoebox Parking Lot Lighting among many. Here's why:
Easy to Mount 
LED Shoebox Lights are designed smartly so that any electrician with basic knowledge can mount or install them without any significant challenge. They only have to follow the basic installation process written on the paper inside the box.
Quick Slip Fitting 
The quick slip fitting mechanism has made the installer's installation and wiring process simple. By slip fitting, one significant change you can make with this best outdoor LED Shoebox Parking Lot Lighting is to install it on the top of the pole instead of its edges.
Once done, it will be easy for you to set up the wiring of the light, and it can change and split without any issue.
Various Light Patterns 
LED Shoebox Light comes with four different light patterns, allowing users to choose accordingly.
Type 1 - The first LED Shoebox Light pattern emits a long and narrow shape of a flying saucer-like design. Best use in sidewalks and pavements.
Type 2 - The second LED Shoebox Light pattern emits an oval structure. Perfect for narrow ways and minor roads.
Type 3 - Compared to Type 2, this LED Shoebox Light pattern is smaller and apprehends parking lot lighting.
Type 4 - The four LED Shoebox Lights pattern emits semi-circular patterns and provides sufficient parking space illumination.
Final Thought 
LED Shoebox Light has enormous benefits beyond any words and imagination, and it can only be observed through daily inspection. And for that, you need to install LED Shoebox Lights in your specific area.
It could be your parking area or near parking areas and park where you go for walks. Meanwhile, you can Visit Rayz Lighting for a better LED Shobox Lighting option at a cost-effective price.
Now that you have learned the importance of LED Shoebox Light, an early consultation to picking up the best Shoebox Light from Rayz Lighting sounds like the most profound option.