Commercial LED Lighting - Commonly Asked Questions
RECENT POSTS
Fri, Mar 17, 23

Fri, Feb 24, 23

Thu, Feb 09, 23

Mon, Jan 30, 23
Categories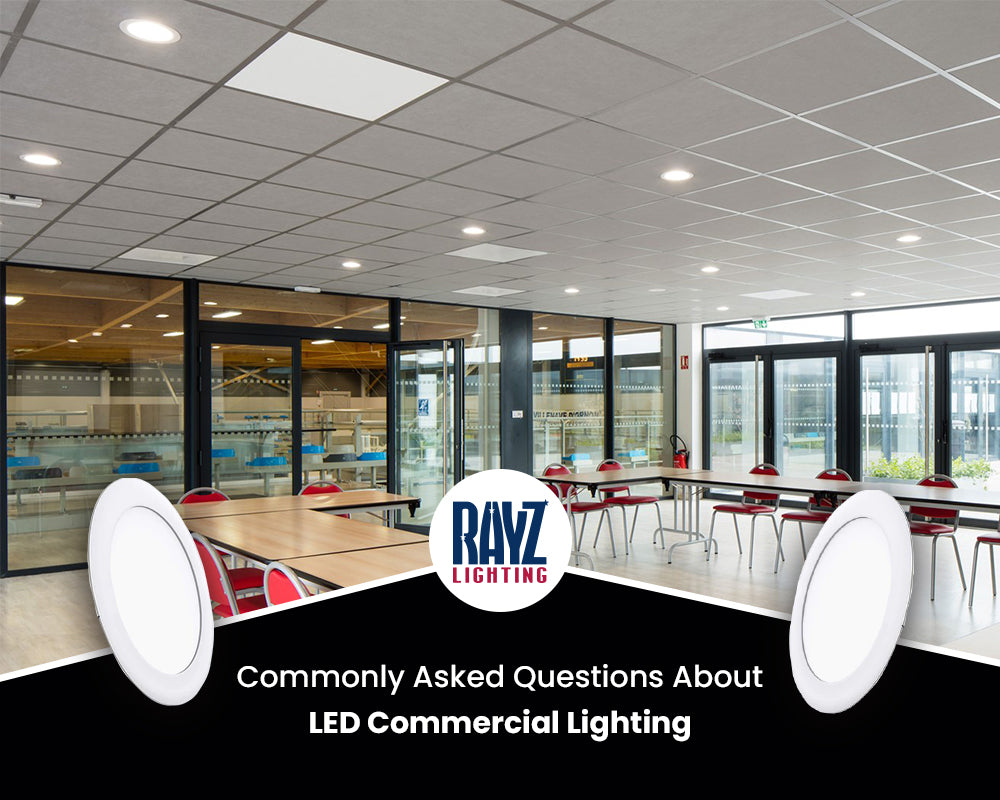 Since the introduction of LED (Light Emitting Diode), the lighting industry has experienced a massive transformation in its products and usage.
From residential to commercial, everywhere now, you can see LED lights of different sizes and capacities installed for better lighting solutions.
While in residential or small areas, multiple small-wattage of different lights are installed, whereas, in commercial spaces, specially designed Commercial LED lighting fixtures are hung on ceilings.
But what is LED lighting, and what beneficial factor has made it the first lighting choice for all? Let's find out!
So, What is LED?
LED stands for Light-Emitting Diode, which is made of semiconductor material. Diodes are composed of two electrodes where electricity flows seamlessly in one direction.
In an LED light, an electric current passes through a diode (a semiconductor device) which causes it to emit light.
Benefits of LED Light:
Although LEDs have comprised numerous benefits. But the most talked about, and essential is such:
Energy efficient
Ensure high-end safety measures as it has no UV-emission
Save energy and maintenance cost
Long-term durability (50-60000 hours on average)
It comes with tunning and dimming abilities
Now that we have a brief idea about LED and its benefits, let's dive into some of the most asked commercial lighting questions that business owners often seek before buying for their establishments.
What is Commercial Lighting?
Commercial Lighting describes the fixtures used in commercial spaces, including factories, auto dealerships, distribution centers, offices, malls, and warehouses.
Unlike residential lighting, commercial lighting is designed to withstand more active hours. Some of the best Commercial Lighting fixtures examples are LED Linear High Bay Lights and UFO High Bay Lights.
Commercial Lighting is heavily task-orientated compared to traditional lights and designed based on application area requirements.
How can commercial lighting increase productivity?
Commercial Lighting fixtures are designed in an advanced way that illuminances the exact amount of light to a specific surface and brightens those spaces for better and clearer visibility.
As a result, it helps in the optimum use of daylight and artificial light to create a productive atmosphere that comprehensively impacts the health, well-being, and productivity of employees who perform a task in your commercial space.
Moreover, it helps visitors get a clearer view of products and make an eligible purchase without needing clarification on color combinations.
Does LED Commercial Lighting help the industry saves money?
LED Commercial Lighting consumes 50% - 60% less electricity than traditional lighting fixtures. Moreover, LED Commercial Lights have a much longer lifespan than incandescent and fluorescent lights.
On average, it endures more than 50,000 hours. If you keep it on 24*7, it can result in a 5-year lifespan.
What are the modern and advanced features of new-age Commercial Lighting?
Although every feature in a Commercial Lighting fixture is new and advanced, some of the highlighted fixtures are:
IP stands for Ingress Protection, which refers to this light's dust and moisture protection level. This feature ensures that the lighting fixture is well protected from dust and water or moisture up to a certain level.
CRI stands for Color Render Index, which enhances this light's color determination capabilities. It means under commercial lighting, one can define a product's actual sunlight version.
Apart from these two, the multifunctional sensor is also a significant factor of advanced features. Still, it is limited to a few commercial lighting fixtures like UFO High Bay Lights.
What are the benefits of upgrading to Commercial Lighting?
The top benefits of using LED Commercial Lighting are as follows:
LED lights use 50 to 60% less energy than fluorescent and halogen lights. LED lights are so effective, especially in areas where lights are in use for extended periods.
LEDs are long-lasting and do not necessarily burn out or fail. Instead, they dim after a long time.
LEDs can be effective for flashing light displays and daylight sensors.
LED Commercial Lights are easy to control in terms of dimness or Brightness, depending on the needs.
LEDs emit very high brightness levels compared to other types of lighting.Compared to traditional lights, LEDs offer an expansive range of colors and color temperatures.
So here are the complete and precise answers to the most asked Commercial lighting questions. I have tried my best to answer every question as cleanly and straightforwardly as possible.
For more Common Commercial Lighting Questions and comprehensive Commercial LED Lighting solutions, enrich Rayz Lighting officials now!