LED Football Stadium Light - Why should you opt for LED light instead of traditional light?
RECENT POSTS
Fri, Mar 17, 23

Fri, Feb 24, 23

Thu, Feb 09, 23

Mon, Jan 30, 23
Categories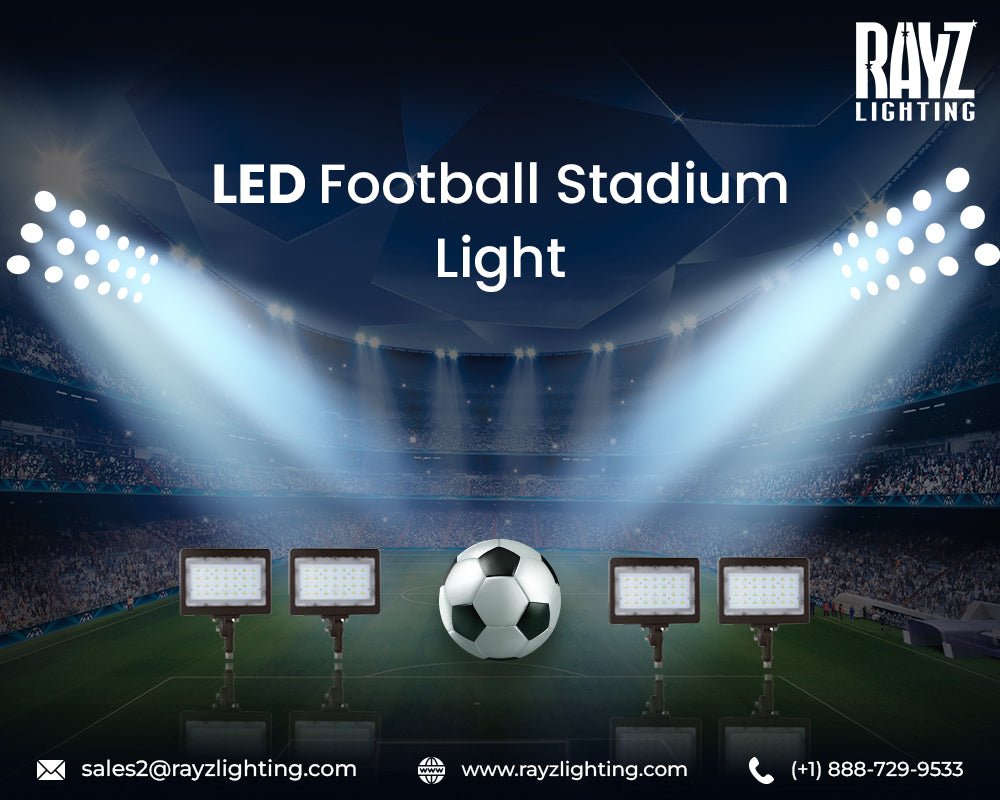 The craze for football is second to none in many countries worldwide. In India, too, it is the second most favorite sport and is played everywhere across the country. However, the beauty of a football stadium lies in the amount of high power and brightness of the light.
The fun of watching a close contest between rivals under the brightest of light is second to none.
That's why you will see multiple outdoor stadium lights installed in football stadiums, assuring close attention to detail for players, referees, match officials, commentators, spectators, and broadcasters for a clear view of the match.
Earlier it used t be traditional outdoor lights installed in football stadiums. But, as time progressed, the lighting industry transformed from standard fluorescent light to LED. And now, multiple high-quality LED lights ensure high-end brightness and longevity in stadiums.
The very reason behind the rapid growth and adoption of LED lights is their cost-effectiveness, longer lifespan, and smart integrated features.
We have highlighted a few key prospects of LED's core components and the benefits in this blog on why it has emerged as the first choice for Football stadium lights worldwide.
So what makes LED outdoor lighting fixtures the top choice for the football stadium
Unlike fluorescent lights, LED lights don't use mercury or hazardous materials, making them 100% recyclable. Secondly, LED lights don't emit any ultraviolet (UV).
This qualitative nature of LED lights allows users to install and use lights in open areas under the rainwater without worrying about the fuse, explosion, and additional heat.
If the LED industry will always boast about one thing, then its lighting fixtures' longevity. And why not? Compared to traditional fluorescent light (Average lifespan of 10-15000 hours), LED lights ensure (Average lifespan50-60000 hours), making them the best quality durable lighting fixture. The longevity also helps reduce frequent light replacement, saving a decent number of users.  
The highest efficiency of a LED lighting fixture in our inventory can reach 200Lm/W, which is way beyond the expectation of traditional lights.
A single 100W LED light can easily replace 200-300W traditional light. With this, you can save up to 75% on electricity consumption monthly.
The modern LED lights come with Color Render Index (CRI). This advanced feature has improved the visibility of objects under LED lights by reflecting them in their original form.
The CRI significantly maintains the balance between colors and helps views catch up with the actual form of the object, similar to sunlight.
The design and material used to create new-age LED lighting fixtures are far better than traditional lights. Now, these lights can withstand any dangerous weather and protect themselves in hazardous locations.
Modern LED lights are made using strong fiber and aluminum covers, ensuring their safety and solidity in the worst conditions.
I am not sure whether LED lights having multifunctional Sensor has been installed in Football stadium lights yet. Still, it would be the next step toward smart lighting installation if it has.
A multifunctional sensor in a LED light ensures remote connectivity of the light, which users can operate within sheer distance and adjust its core functionalities.
Whether installation process, longer lifespan, eco-friendliness or energy, or efficiency, LED lights seem in all aspects seems to be a cost-effective lighting option for every outlet.
Most importantly, the longevity reduces frequent replacement, and advanced LED features reduce energy consumption. These key prospects save a decent amount on your lower electricity bill, helping you save your electricity budget.
Bottom Line
So this sums up our point-wise elaboration on why you should choose LED lights for the Football stadium instead of traditional lights.
More than anything else, LED brings flexibility, high-end performance, and long-period connectivity while saving you a high cost in its maintenance and bill.
At Rayz Lighting, we feature a broad range of LED outdoor lights that are perfect for any size Football stadium. Feel free to visit the store and choose the best fit for your needs.