Top 5 Benefits of Industrial LED Light Fixture - A Definitive Observation!
RECENT POSTS
Fri, Mar 17, 23

Fri, Feb 24, 23

Thu, Feb 09, 23

Mon, Jan 30, 23
Categories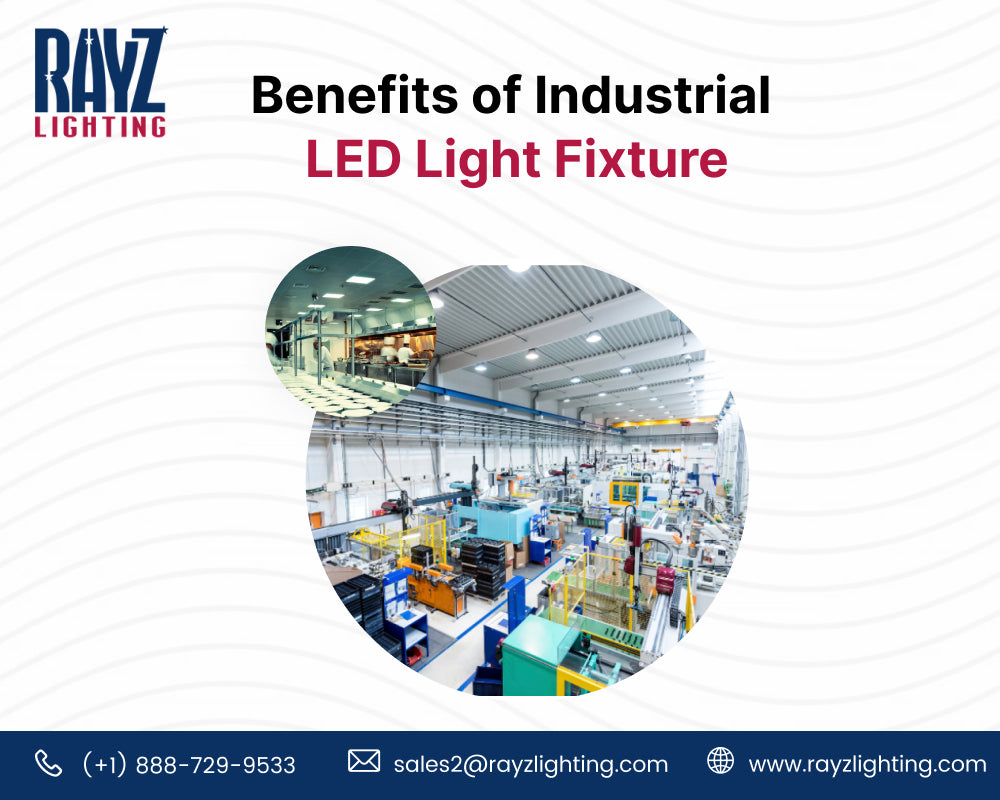 The ballistic emergence in science and technology has led to many intuitive innovations. The inclusion of AI, IoT, and Big Data has changed the perception and performance of machines and the internet.
Likewise, the integration of LED or Light Emitting Diode has revolutionized the lighting industry in a big way. As a result, LED lighting fixtures have become highly reliable for indoor and outdoor facilities.
It includes warehouses, residential homes, shopping malls, industrial facilities, cold storage, stadiums, parks, parking areas, and many that require LED lighting solutions.
Regarding industrial areas and warehouses, these two facilities have got the most out of LED lighting fixtures. And why not? These are large and 24*7 operations areas where high-standard lighting options become an automatic and invincible choice.
Also, Industrial LED light fixtures have many benefits, which have multiplied their usage and adaptability in the last decade.
So let's find out those commanding prospects that have made LED light fixtures the preeminent pick for industrial facilities.
5 Benefits of Industrial LED Light Fixture
The reason behind the quick popularity of Industrial LED lighting fixtures is their energy efficiency. The advanced LED Linear High Bay consumes 80% less energy than conventional HID lights yet illuminates and covers large spaces without showing performance debacle.
Due to this, many industrial owners have recently switched their spaces from traditional to LED lights.
According to the latest energy tracking stats of the Department of Energy, the annual saving from LED in the United States are 143 BTU nationwide, reducing approximately $1.4 Billion from the previous expansion.
And they predicted that if all the commercial and industrial turn up to Industrial LED light fixture solutions, the saving will enrich up to 4,896 BTU, equivalent to $49 Billion.
The industrial standard light fixtures maintenance cost includes repairs, inspection, and frequent replacement requirements. However, the same thing doesn't occur with LED's.
LED High bay lights are known for their longevity and lower maintenance cost. Once installed, it runs smoothly for up to four to five years, reducing your maintenance and other costs, including labor charges for the inspection.
Moreover, LED's are easy to install and can be done by themselves. However, industrial facilities need expert assistance for the same - another vital prospect of cost-saving.
Most LED light fixtures have a five-year warranty (almost 50-60000 running hours), which is the most significant advantage.
Such extensive running hours determine their ability to perform under lower energy. Moreover, LED's employ a multi-point design, which ensures the right proportion of lighting distribution on the surface.
In contrast, LED's are available in multi-colors and shapes that act accordingly to the setup, resulting in high-end performance.
When asked about employee productivity, most industry owners suggest events, feasts, and gifts/compensation. But what if I tell you your LED light fixtures also can boost your overall employee productivity?
Well, it is simple. When you install LED High Bay light fixtures in your working areas, you get brighter illumination covering every dark spot, leading to fewer collisions and accidents. It enhances general eyesight and alertness among workers.
Also, improve their color recognition capability. As a result, your employees feel safer and happy to work alongside you during work hours. It can significantly boost your production rate too.
Industrial machine-related accidents and product packing mishaps are common phenomena. But with adequate lighting, you could avoid both up to a certain level.
Compared to traditional fluorescent lights, LED lighting lasts significantly longer and ensures excellent illumination throughout the day. Brighter illumination leads to a clearer vision of machine corners.
Moreover, it doesn't cast UV (Ultra Violet) emission, which is harmful to the body. So in both ways, your employee's safety will get a booster, and you are more likely to relax from that prospects.
Most Preferred Industrial LED Light Fixture
This LED light fixture is one of its kind and arguably the most comprehensive industrial lighting solution compared to many others.
Due to its versatility in size (1ft*2ft and 2ft*4ft) and square design that equally distributes the light, it gets quickly fits into any industrial facility without much hassle.
More than anything, it has all the core beneficial factors mentioned above, which enhances its industrial lighting option compatibility.
Most Linear light has a Color Render Index (CRI) above 80 and a life span of 50 - 60 000 hours on average, making it the best industrial LED light fixture among many.
Bottom Line
Industrial areas are the most crowded and echoing areas as many workers, and heavy machines stay active throughout the day.
In such areas, proper lighting installation becomes a priority as it enhances your employees' safety in many ways.
Though you are a busy industry owner, it will take only a few minutes to pause and inspect the lighting condition of your facilities and suggest changes as required. After all, your employees' safety comes first.
You have also gone through the above-explained benefits of industrial LED light fixtures. So it shouldn't have been a difficult choice to make.
In case you need expert assistance regarding the no of industrial light fixtures required, budget estimation, and installation service, contact Rayz Lighting!