Install LED High Bay Lights For Smooth and Hassle-Free Warehouse Operation!
RECENT POSTS
Fri, Mar 17, 23

Fri, Feb 24, 23

Thu, Feb 09, 23

Mon, Jan 30, 23
Categories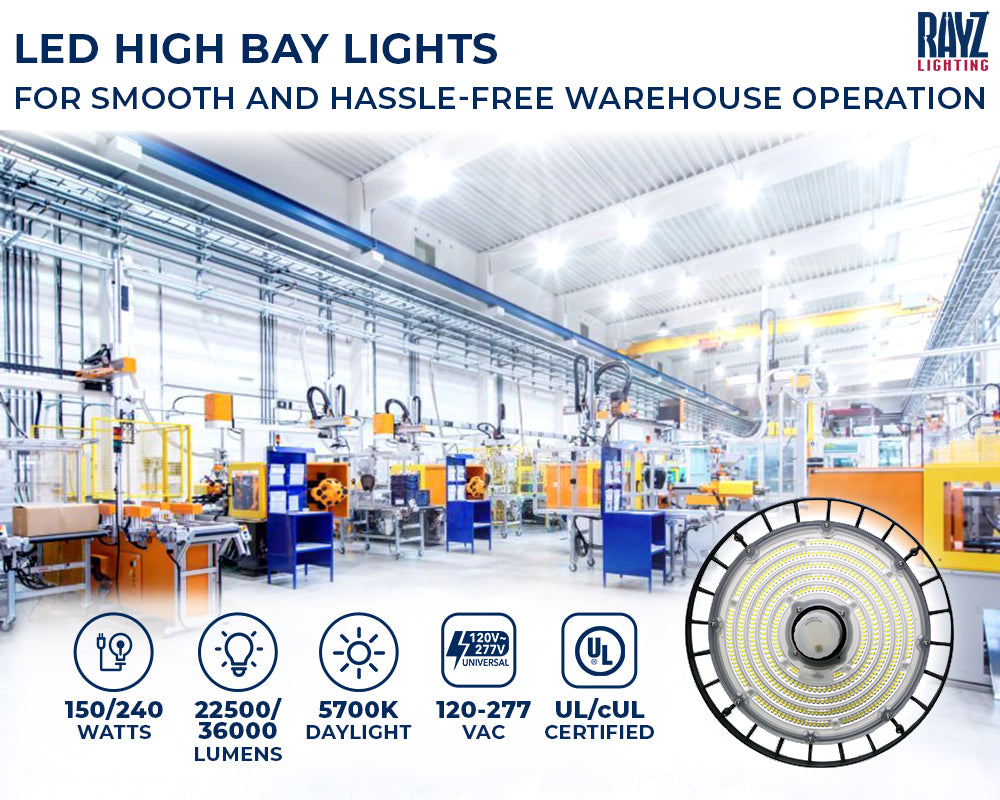 The lighting industry has been the most transformative sector in the past decade. The adaption of advanced technology and configuration has opened the door for electrical and mechanical engineers to develop intuitive lighting products that improve establishments' efficiency and appearance. One such invention is the LED High Bay Light.
The LED high bay light is specially designed to brighten a vast and open establishment like a Warehouse. Most importantly, LED high bay lights are coped with the latest specifications that promote warehouse productivity and give workers a brighter yet safe working environment. In contrast, many warehouses owners across the nation have replaced their traditional lights with LED high bay lights over the years.
So, without assuming much, let's dive into some of the key advantages of LED high bay lights and why you should prioritize them over traditional lights for your warehouse operation.
Installing LED high bay lights in the warehouse will;
Enhance Employees Productivity 
The high percentage success of your products belongs to your employees' hard work. They are the ones who work tirelessly shift-wise to make your product ready to dispatch in time for different locations. But for that smooth operation, they require proper lighting, such as LED high bay light for a smooth and hassle-free process. LED high bay lights enhance their performance with brighter illumination, automating their productiveness.
Increases Employees & Equipment Safety 
We all know that warehouses are filled with hundreds and thousands of workers and equipment. To determine their safety, owners must pay close attention to lighting products that are safe and reliable. On the other way, LED high bay light decreases employee exposure to harmful UV light on the other way compared to traditional lights. Also, it doesn't get heated up in the long run. So the risk of it catching fire is almost zero, making it the best and safest lighting option for warehouse employees.
Longer Lifespan & Lower Maintenance 
Conventional lights are often needed to be replaced or repaired due to lower efficiency and shorter lifespan (10,000hrs. However, LED high bay lights to come with a much better lifespan (60,000hrs) which automatically reduces the replacement and maintenance cost. Also, if you purchase LED high bay lights from a renowned lighting service provider, such as Rayz Lighting, you will get an additional five years of warranty card on each LED lighting product. In all ways, LED high bays are a cost-effective option for all warehouse owners.
Increases Workers Visibility 
Workers need to indicate the accurate shades of objects and products to avoid packing hindrances. Thankfully, LED high bay lights are equipped with Color Rendering Index (CRI) configuration, which helps measure products' natural and realistic colors compared to traditional lights. It improves workers' visibility and becomes more conscious while performing their tasks.
Reduces Ambient Light Glimpses 
When you choose to install High-intensity discharge (HID) lights in your warehouse, it automates the glare elimination process and helps in reducing the extra lighting amount. It consumes less energy but provides higher illumination to the required area. Also, the heating amount is less, which refers to a more relaxed working environment.
Reduced Electricity Bills 
Compared to standard lights, LED lights to consume less power (watt) per unit of light (lumen) generated. Also, most LED high bays to come with a motion sensor that allows users to take complete control of them with sheer distance. It automatically gets turned on by detecting human or other living things' movement under it. Else, it automatically turned off. So all in one, it saves energy and helps reduce electricity bills.
Bottom Line 
Lighting is essential for any big establishment, such as a warehouse that requires professional installation. Proper lighting not only improves working moods but also enhances your warehouse's overall productivity. Also, you will get a bundle of other benefits mentioned above, making LED High Bay Lights are an ideal choice for warehouses.
If you find it challenging to contact the best-LED lighting store and service provider, we suggest you take a detour of Rayz Lighting. you will get a glimpse of so many lighting options with fair prices and proactive customer support. So for a better warehouse operation result and cost-effective lighting service, opt-out to Rayz Lighting LED High Bay Lights at your convenience.