LED UFO High Bay Lights Definition & Core Features - Know All That Matters!
RECENT POSTS
Fri, Mar 17, 23

Fri, Feb 24, 23

Thu, Feb 09, 23

Mon, Jan 30, 23
Categories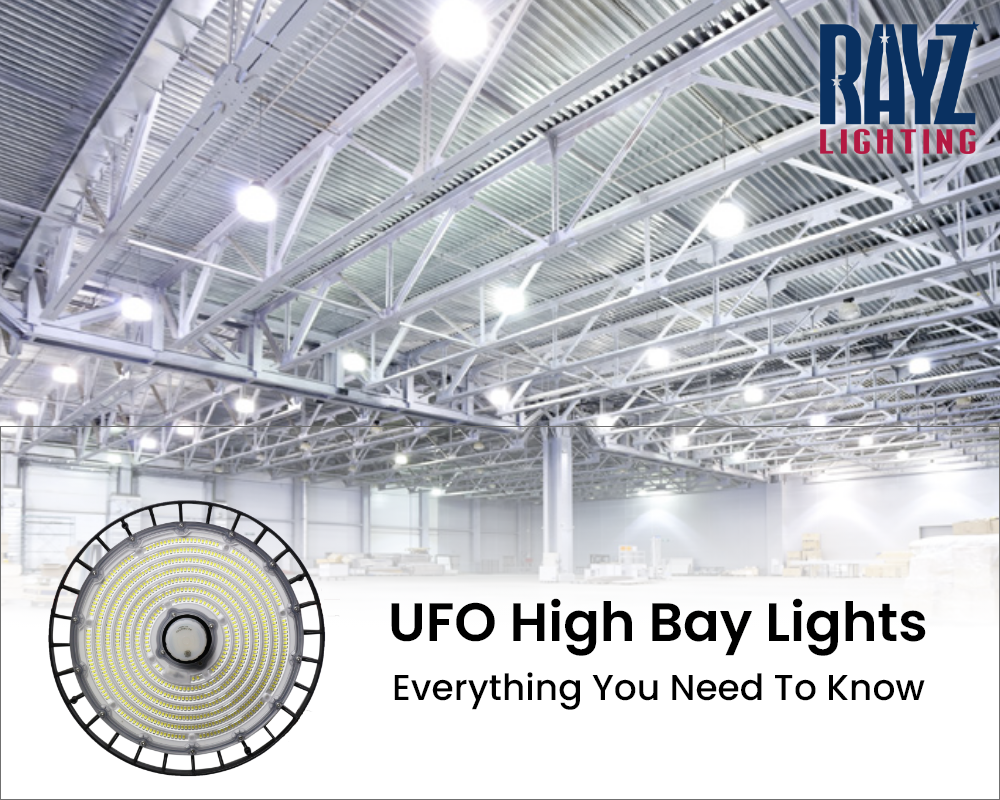 As digitalization has taken over every sector with intuitive technological advancement products, how come the lighting sector stays behind? Lately, the lighting industry has undergone an impressive transformation, leading to a vast increment of LED lighting fixtures in indoor and outdoor lighting categories.
While many LED lighting options are available in various sizes and shapes, the LED UFO High Bay light has become a superior choice for large area lighting solutions.
In this blog, we will help you with an in-brief explanation of high bay lights and their core features. So consider reading till the end!
What is a LED UFO High Bay Light? 
As the name suggests, high bay lights are generally suitable to illuminate vast spaces with high ceilings (20ft - 45ft). A high-ceiling establishment has more space area, and therefore it requires a high bay lighting solution to cover up the whole space. In contrast, the manufacturer has developed this High Bay Lighting option, enabling flat integral aluminum housing optics which distribute enough lights to the given surface without relying on multiple reflectors. The term UFO refers to its round-shaped structural design, making it a modern-day lighting solution.
The LED UFO lights are an excellent solution for the below applications areas:
Warehouses
Commercial areas
Stadiums (Indoor)
Garages
Gymnasiums
Conference halls
Marriage halls
Recently, all these spaces have been replaced with High Bay Lights, considering its numerous benefits.
Some of the notable benefits of UFO Highbay Lights are: 
Property owners generally prefer these lighting solutions because of the various features and benefits.
All our high bay lights are IP65 integrated. The IP stands for Ingress Protection, where 6 refers to the dust level protection, and 5 refers to water and moisture level protection. This feature indicates their weather efficiency in the most advanced manner.
The lifespan of these UFO lights is one of its most significant beneficial factors. UFO High bay LED lights are quick to energy observe and run at least ten times longer than CFL and fluorescent lights. The average lifespan of these lights is close to 60 000 hours. These lights don't emit any heat, and Ultra Violet (UV) causes no harm to the environment.
With an LED high bay lighting solution, you won't experience any flickering or gradual warm-up. No matter how often you turn on the light, there won't be any flickering or variation in these LED lights.
Compared to traditional fluorescent lights, these lights consume 80% less energy yet provide better illumination. It can easily converse and perform well up to 120-277vac.
The UFO lights have an in-built Colour Render Index (CRI), which simplifies the lighting contrast, allowing users to get a firm view of the objects just like sunlight.
Most importantly, you will find in-built Motion Sensor ZH18MF001 (MULTIFUNCTIONAL SENSOR)with these lights, a token of technological advancement. The motion sensor will allow you to control its functionality and operation by a remote within a sheer distance.
Above all, one of the most significant aspects of these lights is that these lights are easy to install. After finishing the wiring, attach the hook hanger (Available in the accessories box) onto the top of the High Bay UFO Lights and hang it with the chain's support with the ceiling hook hanger.
Last and most importantly, all our UFO lights are UL/cUL certified, increasing the trust level in our products. You will also get an additional five-year warranty on each of these lights as a purchase benefit.
These were some of the core benefits of high bay lighting, an appropriate choice for lighting up large spaces with high ceilings. Many property owners have already replaced their area lighting with these lights, referring to their even distribution of lights with less light distortion. These lightings are more efficient and powerful than other lighting, making it a smart choice for many.
Final Takeaways! 
Proper lighting increases productivity and creates more positive vibes in the environment than standard fluorescent lights. It also boosts the employees' productivity, assuring safety and reliability in the most advanced manner. Enrich Rayz Lighting, a commercial lighting solutions provider, for the best high bay lighting solutions. We have cost-efficient and robust lighting solutions in different categories to fulfil all your lighting requirements.