Outdoor LED Flood Lights - A Comprehensive Guide Of High Wattage Vs. Low Wattage!
RECENT POSTS
Fri, Mar 17, 23

Fri, Feb 24, 23

Thu, Feb 09, 23

Mon, Jan 30, 23
Categories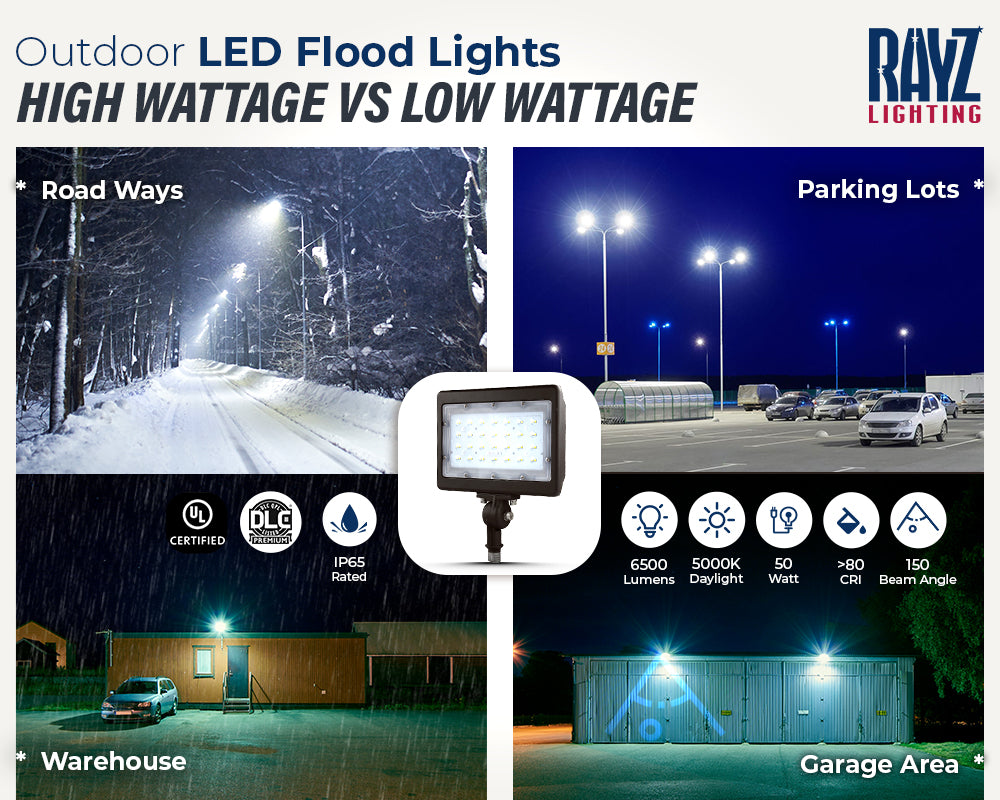 The last decades have been a revolution for the lighting industry. Especially the inclusion of LED configuration proved to be the real game-changer. It has changed the entire lighting structure of both domestic and industrial in the best ways possible.
Unlike many, Flood Lights have gained immense popularity in the outdoor lighting segments due to their high fluorescent and energy-efficient configuration.
To help you figure out the best-LED Flood Lights in the Outdoor Lighting Solution, we have come up with this comprehensive guide between high-wattage LED Flood Lights and low-wattage Flood Lights.
Ensure reading it till the end to choose the best industrial LED Flood Lights without hassle.
What are LED Flood Lights?
The LED Flood Lights are a modern and cost-effective alternative to traditional halogens designed for domestic and industrial outdoor environment lighting solutions.
Its prime purpose is to illuminate larger spaces. For domestic specific use, you can install Flood Lights outside your home and garage based on your requirements.
Apart from domestic use, these LED Flood Lights are best suitable for the industrial outdoor lighting area, creating a safe and secure outdoor environment for them.
High Wattage LED Flood Lights
High wattage LED Flood Lights are broad-beamed, high-intensity Flood Lights usually installed outside commercial buildings, parking areas, industrial areas, large buildings, and roadways.
It is designed explicitly by enabling advanced features that can brighten up larger spaces throughout the year without any major issues.
Available in all shapes and sizes, the high wattage lights are a modern outdoor industrial LED Flood Light solution.
Low Wattage Flood Lights
The low-wattage Flood Lights are the most comprehensive domestic outdoor lighting solutions in 2022.
Gradually, you can install low-wattage Flood Lights outside your home, parking lot, garage area, parking area for brighter illumination.
The lower wattage Flood Lights are coped with advanced features and are efficient in overcast conditions giving you an advantage over its use in the long run.
You can choose the shape, power, and size according to your needs.
High Wattage Vs. Low Wattage LED Flood Lights Comparison
Although both High wattage and Low wattage, Flood Lights are amongst the top picks in the outdoor LED lighting solution category.
Let's dive into a brief comparison between High Wattage vs. Low Wattage Flood Lights will give you a closer look at their features and usage.
Wattage
Upon purchasing any Flood Light, ensure paying closer attention to its wattage. Flood Lights' wattage makes it more energy-efficient and helps in reducing electricity bills.
The lower the Flood Lights watts, the lesser it will consume energy and lower the electricity bills and vice versa with the high wattage.
That does not mean you should install low-wattage LED Flood Lights in vast areas.
Beam Angle
The bean angle of any Flood Light refers to its curve or degree of width in which the LED Flood Lights distribute their light.
The high wattage Lights create a beam angle of 120 degrees, covering up a wider area than the low wattage Flood Light with a 45-120 degree beam angle suitable for restricted domestic regions.
Colour Temperature
Color does play a vital role in lighting applications. The higher the kelvin of your LED Flood Light, the brighter the illumination it will provide, leading to eyesight problems.
That's why it is essential to choose LED Flood Lights with a balanced color temperature that will maintain brightness and contrast accordingly.
Also, the right color temperature Flood Lights to help you lead a happier, safer, and calmer working environment.
You can take expert help such as Rayz Lighting upon choosing the best industrial LED Flood Lights for your industrial outdoor lighting solutions.
Application Area
The high-wattage LED Floodlights are the best fit for industrial lighting solutions. It can be used in stadiums, mega factories, parking lots and outside areas, industrial areas, driveways, roadways, and many more vast specific areas that need brighter illumination.
At the same time, you can also use it inside the warehouse and shipyards. While the low-wattage Flood Lights have specified domestic use, you can install them around your home and garage areas.
Upgrade to LED Flood Lights
LED Flood Lights are the most reliable lights at present. As discussed earlier, long lifespan, lower maintenance, and advanced beam angle are three vital aspects of Flood Lights.
This concludes how much the lighting industry has changed over the years and why we should replace the traditional outdoor lights with suitable LED Flood Lights.
Apart from the above benefits, several more make LED Flood Lights the best outdoor lights of all.
Key Features & Benefits of LED Flood Light
Easy to Install:- These modern Flood Lights require less time upon installation. The industry lights can be installed using factory-fitted cables, while domestic Flood Lights require relevant wires.
High Performing Optics:- The Industry-specific lights deliver maximum application coverage without being prominent.

Efficient LED Thermal Design:- These specific features of the Flood Lights ensure good heat dissipation. Also, it prevents dirt flow around and inside the luminaire.


Excellent Reliability :- The industry Flood Lights are made with aluminum and solid fiber optics that protect them from harsh environments making them the best Flood Lights for hazardous locations.
Optical beam choices:– You will get three options in this segment: symmetric wide, asymmetric medium, and asymmetric wide.
Advantages of LED Flood Lights
LED Flood Lights are among the best innovations in the Modern Outdoor LED Lighting Solutions segments. Before choosing LED Flood Lights for your establishments, ensure having a glimpse of some of its prime advantages, which are as follows:
Longer Lifespan :- Most Flood Lights come with a 50,000 to 60,000hr lifespan, making them the most durable lighting solution.
Energy-efficient :- Flood Lights consume less energy than traditional lights due to the advanced LED configuration. With each Flood Light installation, you can save up to 70-80% energy.

Produces less heat :- The LED Flood Lights have a low operating temperature configuration that doesn't allow them to produce higher heat than traditional fluorescent light.


Motion Sensor :- The term digitalization has taken over on these lights, which now have motion sensors enabled to turn off and on accordingly automatically.
Eco-friendly :– No toxic material, no carbon footprint; the Flood Lights do have an eco-friendly tag behind their name.
Low Maintenance :- Installing 50W Flood Light or 30W Flood Light is a one-time investment due to their more extended lifespan configuration. You can pick these products from our website at the best price.
Final Thoughts
Choosing the Best Industrial LED flood Lights is a daunting task. It would help if you had experts upon choosing and installing Flood Lights. Inevitably, most of you are not familiar with Flood Lights' above specifications and features.
But, you do have the best options, such as Rayz Lighting, which holds the most comprehensive collection of LED Flood Lights in all shapes and ranges. You are welcome to visit our store at your convenience and ensure reaching out upon hindrances.
FAQs
Where to buy the best-LED Flood Lights?
You can enrich Rayz Lighting for the best-LED Flood Lights.
Are LED lights weather efficient?
Yes, most LED lights are installed outside vast areas, making them automatic weather-efficient LED Flood Lights.
How bright is a 50W LED Flood Light?
A 50W LED Flood Light is a suitable replacement for 400W to 500W halogen Flood Lights. Available in Rayz Lighting INC.
How bright is a 30W LED Flood Light?
A 30W LED Flood Light is a suitable replacement for a 300W halogen Flood Light. Available in Rayz Lighting INC.
Are LED Flood Lights Direct Replacements For Halogen Flood Lights?
Not precisely, but modern LED Flood Lights are far better and consume less energy than traditional Halogen Flood Lights.