10 Crucial Benefits You Can Expect From Upgrading to LED Lighting!
RECENT POSTS
Fri, Mar 17, 23

Fri, Feb 24, 23

Thu, Feb 09, 23

Mon, Jan 30, 23
Categories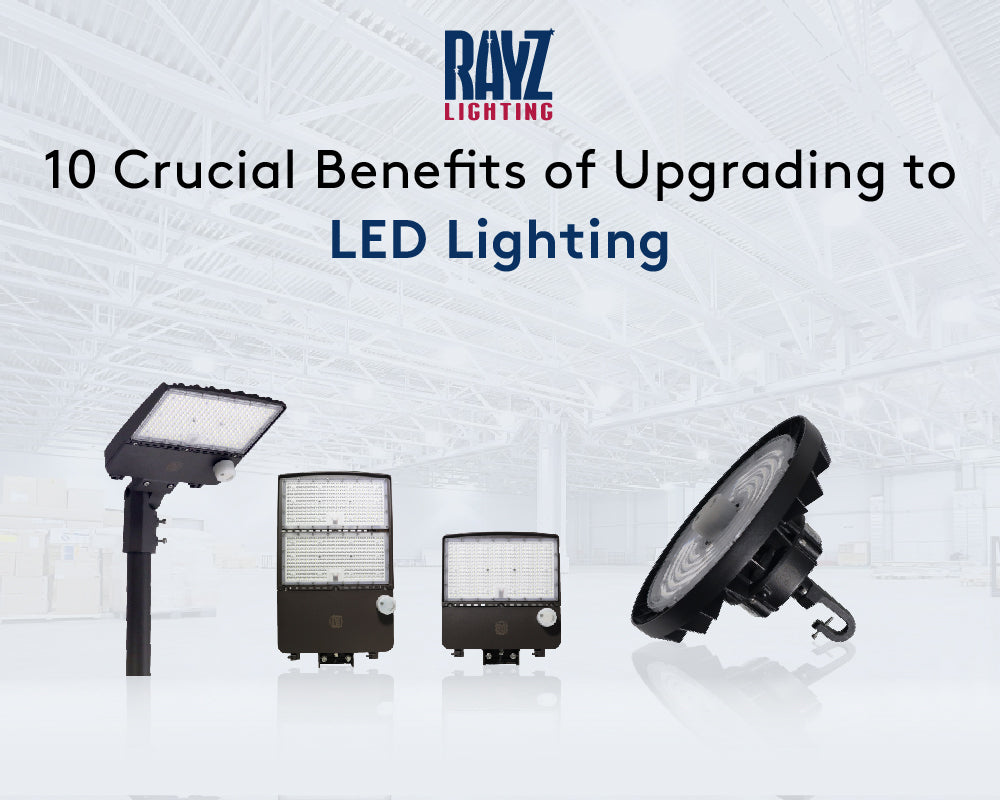 We live in a digital era where there is an innovation every day in all segments, impacting our daily lives with higher advanced possibilities. Out of many, the Light-emitting diode, popularly known as LED, is one famous invention which has added the most credibility, ensuring a cost and energy-efficient lighting option in the indoor and outdoor lighting category.
But, cost-effectiveness and energy efficiency are not the only two benefits of LED lights. There are a plethora of other beneficial factors, such as longer lifespan, all-weather resiliency, safer installation and low-cost electricity bills, which make LEDs the modern-day lighting solutions for all spaces and establishments.
In this blog, we will decode those benefits of LED lights, giving you a solid reason to upgrade to LED lights throughout your spaces.
Multiarea Usage 
Many users have adopted LED lights as a token of advanced lighting solutions. From tiny, mid-sized, and large indoor establishments like households, office areas, gymnasiums, garages, factories, and parking lots to outdoor facilities like stadiums, streets, parks, etc.
The LED lights have a broad spectrum wattage range, ensuring higher compatibility to choose accordingly.
For example, LED UFO High Bay Lights - our best segment in LED indoor lighting. Compared to standard fluorescent lights, it's the best lighting option to illuminate vast areas.
It comes with an easy-to-hook mount install option, which you can hang in the ceiling or wall 15ft to 45f from the ground level and still gets ample lighting to cover a vast area.
Application area covered by this light: Garages, gymnasiums, factories/industries, indoor stadiums, large retail stores, shopping malls, etc.
Energy-Efficient
LED lights are energy-efficient, no doubt about that. The first question will arise in any consumer's mind while choosing LED lights over traditional lights.
But, the exact saving is determined by your operating schedule that is majorly used for long hours. For example, your parking lot lights or basement lights are active almost 12 hours a day compared to other areas.
If you install a 50W LED wall pack in your basement replacing a 250 W metal halide wall pack, you can save up to 80% energy, which is a quality save.
High Safety Measure 
 The safety measure of LED lights starts with the installation process. Whether LED Shoebox lights come with a hook mount option, shoebox light (pole emission), LED wall pack or canopy light, you can easily install, replace, and uninstall your establishment without professional help.
However, professional service is inevitable in electronics operation!
Apart from that, LED lights are way lighter than standard fluorescent lights, making them easy to carry, handle and use without any damage issues.
The material used in LED lights is high-quality fibre optics and aluminium, which reduces the heating capabilities without hampering its brightness.
Longer-Lifespan 
Compared to standard lights (10000 - 15000), most of the average lifespan of the LED Light fixture surge from around 50000 to 600000.
Once you pick any LED lights for your establishment, you avoid frequent replacements and maintenance for a more extended period.
As per the energy.gov power survey, LED lights to conserve 75% less energy than traditional CFL lights yet run 25 times more than those lights.
Most importantly, you will get an additional five years of warranty on each LED light product from most manufacturers.
Weather Efficiency 
Have you ever wondered how these LED lights withstand dust, moisture and water and perform better than old standard lights? Because the IP65 configuration has made those lights weather efficient.
The IP stands for Ingress Protection, where the number 6 refers to dust and solid protection level, and the number 5 relates to moisture, snow and water protection level.
The LED outdoor lighting, such as LED shoebox lights, canopy lights, and LED wall packs installed on the shipyards, streets, parks, stadiums, and outside of your home, gets the maximum benefits from this IP65 configuration are the ideal example of weather efficient LED light fixture.
Eco-Friendly & Do Not Cause UV Emission 
Unlike the standard fluorescent lights, LED lights don't use any mercury or extra hazardous materials, making them 100% recyclable.
This automatically reduces the exposure risk and gives you an upper hand to eliminate it once it crosses its lifetime.
The other significant benefit of LED lights is it doesn't emit any ultraviolet (UV). This supremacy of LED lights allows you to install these lights in sensitive areas, such as cold storage, inside the commercial fridge without worrying about additional heat or explosion.
Brighten Instantly 
Among many benefits, the quick illumination separates LED light fixtures from many other lighting options. Compared to CFL and rest standard lights, which take longer to heat up, LED comes to its prime in no time, increasing the room's brightness instantly.
Also, the frequent switch on and off doesn't impact its quicker illumination, performance and durability.
Design Flexibility & CRI 
Earlier there used to be single and standard design lights available for use in a different places. But, with each technological advancement, the design, size, and shape have changed enormously in the last couple of years.
Now, we have attractive and flexible design LED lights available in various colours, accommodating well with eth infrastructure, giving it a perfect look.
Along with the modern design, the new generation LED lights are now equipped with Color Render Index (CRI), which has improved their colour balancing capabilities.
As a result, now viewers have the pleasure of enjoying objects in their actual colour without omitting originality.
Multifunctional Sensor 
If not, then a few of the LED lights are now enabled with multifunctional sensors, which clearly indicates evolvent of the lighting industry with advanced technology.
A multifunctional sensor in a LED significantly reduces the usage of the lights. It is designed to automatically increase its brightness by sensing a human or animal movement and turns off once they pass through.
You can control the overall functionality by its remote within a sheer distance which is pretty cool, reflecting innovative lighting options in the digital age.
Cost-Effective 
The above benefits lead you to one significant advantage: cost-effectiveness. Whether installation process, longevity, eco-friendliness or energy efficiency, LED lights seem to be the one-kind lighting fixture for every outlet.
When installing an LED light, you avoid frequent replacement and reduce the energy consumption, which directly results in a lower electricity bill, making it the first and foremost lighting solution.
Bottom Line 
Picking the right LED lights for your home or outside area is not easy. Many aspects include voltage, wattage, installation, shape and size, which may lead to confusion during purchase.
However, you can consider taking Rayz Lighting's help in selecting the best-LED lighting options in different categories. Moreover, you will get benefit from our 3-year warranty services post-installation.